Please support on UPI
m.manaja@paytm
So guys, I saw #BajiraoMastani !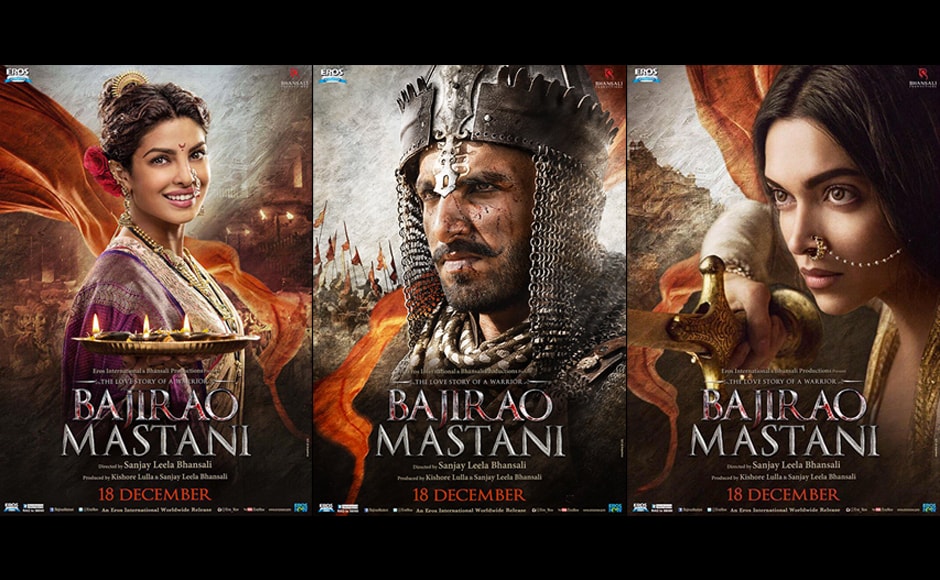 I already posted my instant review on Twitter.
Movie review #BajiraoMastani is AWESOME, PICTURESQUE & very gripping!@Bhansali_Prod @RanveerOfficial @priyankachopra @deepikapadukone
Because Twitter us where you get the real reviews of real users. Of people like you and me. Right? I mean you just need to trust a word. A word that you know is like yours. Hahha
Every frame of Bajirao Mastaani is BEAUTIFUL
One word that comes to mind when you see #SanjayLeelaBhansali's Bajirao Mastani is WOW.
Every frame, every single frame (and I cannot stress that more) is pictursque. It's art.
Those who are looking for a quickie, here's reasons why you SHOULD watch the movie
Stunningly beautiful frames
Ranveer's phenomenal performance with a brilliant Marathi style Hindi dialect that offers a splendid difference in current cinema
Deepika Padukone's make up leaves you with stunningly beautiful looks. And she has acted well.
Priyanka's interesting character as Kashibai
Awesome direction of Sanjay Leela Bhansali
Ranveer Singh's dialogues! (Genius one liners to stay with us like Sholey)
Ranveer Singh's acting
Ranveer Singh's acting
Ranveer Singh's acting
Lol, can't believe him to be so believable as the Maratha.
Why you should not watch the movie
The second half loses the grip and pace that was evident in the first half. The story somehow becomes boring.
Not every filmmaker can make such movies. I'm obviously a great fan of Imtiaz Ali's stories and moments. But Sanjay Leela Bhansali is a brand known for what it does best. The niche of beautiful cinema. Even if the story doesn't matter (I can't believe I'm saying that), the visual experience is so stunning that paying that 500 bucks a ticket in PVR won't hurt that much!
He reinstates what cinema is made for. Certainly it has a visual element and Boy, won't be make it awesome!
I love a movie when the moments stay with you. Did it touch you? In any manner?
The sheer grandeur of the frames and the execution of perfection leaves you spellbound.
Again, a movie to me is super great if you At least sit at the edge of your seat despite the soft comfy cushiony thing you are sitting on. There was one moment but not as much as Bhaag Milkha Bhaag (where I was nearly at the edge most of the time).
But does the movie leave a smile on your face?
Depends, if you are a fan of Romeo Juliet, Ram Leela and other tragedies where the pair has to die to be together. But the movie does try to send several messages and their death in the end is as of an insane dreamer. It is a hallucination or a trance, a zone where only you are present, things that only you can see. What was interesting was true love treatment where you can feel the other persons thoughts no matter where they are.
Intricate delicate treatment
You can see for yourself with how much detail the movie is made. Did you notice that one single smile of Priyanka Chopra while Deepika Padukone dances away as Mastani expressing her love for Bajirao in the utsav? A single smile that says so much. Her angst, her love, her pain of betrayal is treated very delicately.
The beauty of reason behind a character
Only intelligent cinema takes care to reveal the reasons behind why a person is, as he is.
The person who thought of Kashibai and Ma's scene is awe inspiring. In a slight moment you see the two ladies bursting into laughter at their own grief.
Although it would have been better if they had probed on why KrishnaBhatt was such a tyrant and why his thought processes were so strong.
ThankGod! There's a moment where Bajirao says his fight is against Mughals. Not their religion.
Similarly Mastani questions green being poison or related to Islam when she speaks of various things green is used for. Interestingly the message Nana Sahib burns has the green endings.
P.S: Talk to me, I'm right here. (Pls comment. Makes me feel great) fb/Doveranalyst || Tweet @doveranalyst Shortcut to this website
www.doveranalyst.com
SubscribeI'm a simple radio jockey. There will be no spam. Only content IF I'm free, that is. Click the button for new post updates.
I am trying feed burner alternatives. Get your own 👉follow.it
Comment!
Also ✅ post to facebook. Please donate to help support us creating more content. A subscription/ one-time payment will really help.
paypal.me/doveranalyst
or
paytm
Choose a recurring payment option from dropdown.