Please support on UPI
m.manaja@paytm
Update: Trying to revive this post that suddenly disappeared. Just like that. (Blogger feedback? Argh).
Previously on Ayesha Diaries....
Ayesha suddenly gets a call from him and before she knows she's fixed everything and enthralled everyone in her team with suspense on who that celeb is. They have to cover up for her.
But the sudden entry of her super boss had made her escape to meet Protein Shake next to impossible when she risked everything and fled.Will she be able to meet 'Him'? What are 'His' plans? Is he really the good guy or ......
12 Bajke 36 minute series | Ayesha Diaries | Mumbai Diaries
..................................................................................
S01E04 Meeting Protein Shake | When it Happened
'Bad day Ayesha!' I told myself.
No. It is certainly going to be extraordinary. Shanaya had been saying so with the daily horoscope in her hand that she claimed never went wrong. It was going to be a day of unexpectedly special romance for Ayesha or at least for other Librans it said.
Between him and her there was nothing close to romance. She didn't like his looks and he would certainly not like her.
Hurrying through 25 floors and finally finding a broken cab was some respite even though the jerks on speed breakers every now and then were killing my ass.
Lightly brushing on the haldi stain I remembered Vikas's words.'Will you go like this on a date?'
'Ya, why not? A. It's not a date. And B. What matters is me, not what I'm wearing and I certainly don't have time to go home and change!'
Smiling as the hot air blew my hair all over my face I texted him.
You got what you wanted. I got late. Won't be able to see your work out. Will call when I reach.
The one hour drive seemed like ages as I climbed up the stairs to the weird old studio's 5th floor.
Feeling like an innocent thief I signed and waited on the plump sofas pretending to be busy over my cellphone.

He came, dressed in nothing but a full black T-shirt, weird green Capris and a small beaded necklace, hair all spiked up.
'Ayeshaaa. There you are, baby!' his smile was so warm and welcoming.
Thankgod the guard will now know I wasnt lying. He really knew me.
He really seemed happy to see me and before I could comprehend anything else, he embraced me. He felt good. Warm. Secure. His hardness against softness. His arms around me were full of belongingness.
He hadn't even touched my hand before. This one second was overwhelming and must have been more for him or maybe it didn't matter. He turned his back immediately leading me in, diverting in the manly fashion when men need to correct their expressions from 'Oh, man!' to 'I'm perfectly fine.'
I was suddenly me again. Amongst all the cameras I felt at home. Moreover there were other people.
'Yes, bebby? '
'Yes, bebby..'I copied his style of saying baby' is an indication that I can speak, right?'
He smiles.'You are such a smart girl'
Over the next couple of minutes we shared laughter and I was burning with excitement. Just then my happy ride was about to end.
The security freak who feared I would write about the film requested my presence to be removed. He apologized and asked me to chill where he could join me.
Trying to get out of that place I walked in the hot sun, getting lost, getting found, walking till as long as I could remember.
Finally reaching, I went shopping but found nothing interesting other than the AC.
I called him and finally he was there. Hair non-spiky now, thanks to helmet.
'So, that wasn't a date but you definitely want to take me on a date. And you don't have sex. You make love and you don't run away the next morning'
'You are ever so eager and curious baby'
' No what is it? Tell me whatever it is'
'You are a very good girl. To make a move.....'
'So you want to make a move? '
'Yes' he gave the 'can I not ask ' expression.
'See. Point is you are so good that. ....one would feel guilty to make a move'
He got me a subway and had his beloved protein shake which was everything that my all sauces sub wasn't. I finally met the much talked about shake in two layers for double use that looked as tempting as a tablet.
'Can I ask you something?'
'A lot of people say they are intimidated by me. Do you feel so?'
'Intimidated by you?' I smiled disbelievingly munching my subway 'I'm not. Who told you that really? You are not intimidating. Not at all.'
Sauce and cream trickling and rubbed by tissues. Hearty laughter loud and clear. This was everything a date shouldn't be.
.........
'Oh, you think I can't do anything, bebby? Now, do you? Should I come over there, babie?'
'Suit yourself. I don't like sitting face to face. I've told you so.'
'So, you are still not afraid of me?'
'Still not afraid ?' He simply rested his head on my arm and held on to it with a child like insecurity. I reached my hand to tap his cheek.
'You are feeling very good, aren't you?'
'Yeah. But hey baby, if you are feeling afraid I won't do it.'
I smiled. Who could be afraid of this babyish behavior?
'You are a daring chick'.
'What are you staring at?' I looked at the pretty lass up the escalator.
'That girl's a booty queen.'
'Yeah? Go up and tell her then. Try your luck'
He looked at me in disbelief. 'Go up and tell her?' We laughed.
We quickly reached his silver Royal Enfield.
'Today I'm in proper attire.'
As we sped across the signal into the highway, we had come closer to another level of comfort.
'You know what I see in the mirror?'
'I know girls loving watching themselves'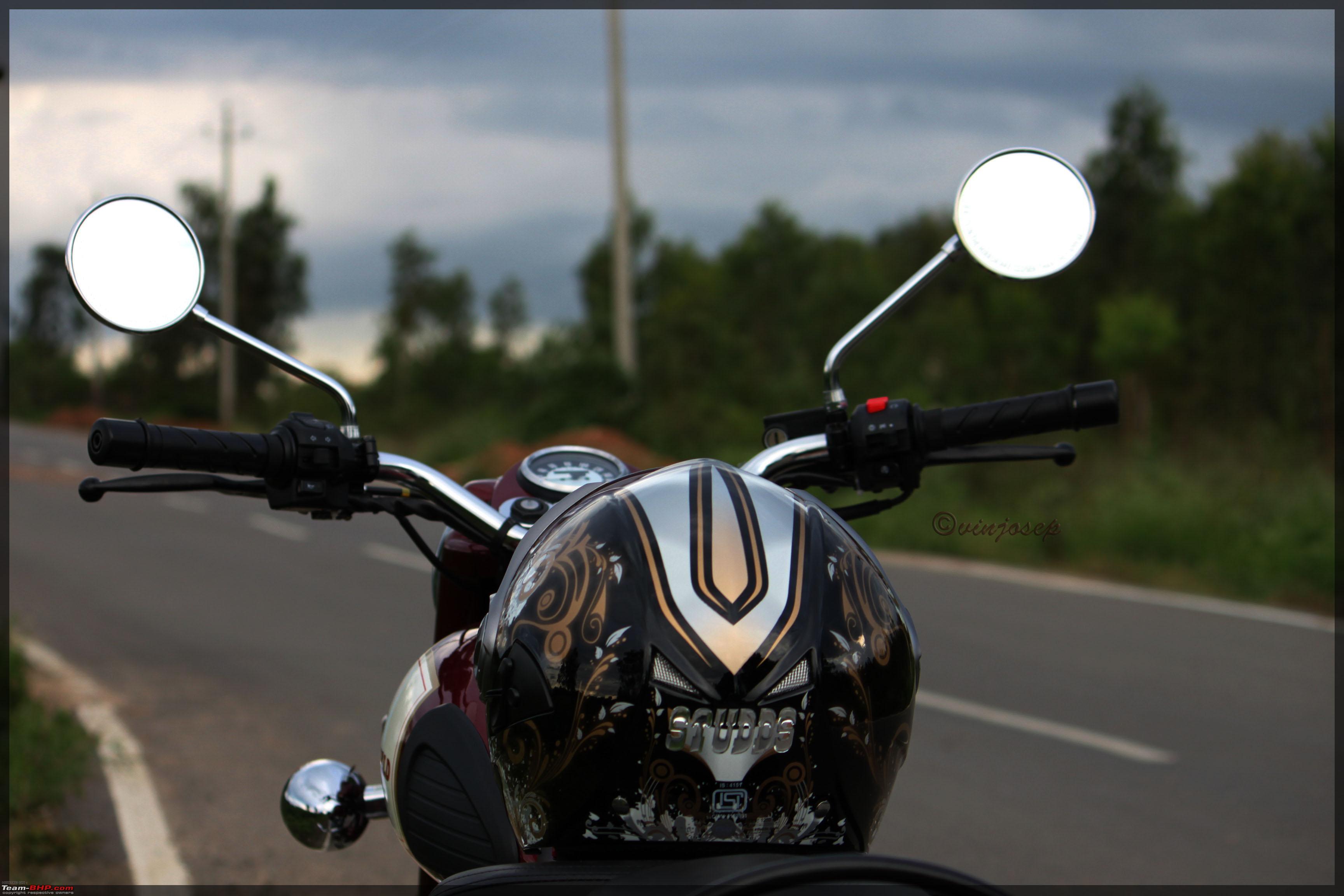 'No. You idiot.' I quickly pat him hard on his arching back.'What I see is beautiful. Artistic. My fair skin of the neck against the circle of my black T-shirt, only partly showing, with my black hair flowing in the wind, my fair hand clutching your puffy archy biceps in black T shirt, my diamond ring shining in the sun....the little mirror looks like a piece of poetry to me. What a lovely scene.'
'Wow. You are amazing. You are amazing, baby.'
'It will change everything. You are very good. I might fall for you if we keep meeting like this. That's why we didn't meet till now.'
'But that's not fair. We should meet. I won't fall for you. '
'Who's talking about you ? Right now I need to concentrate on my career. I've had seriously bad heart breaks in the past. I don't want to get into another mess. If I fall for you what will be your response?'
'What do you mean by fall for me? If you fall in love you certainly won't marry me, will you? Then ? There obviously is no future. And you should be happy.'
'You are a kiddo and I should be the wise one and stop but.....but.....you are so tempting'
'Oh.come on. You know what you are doing! Very tempting.'
'What am I doing?' I realised a moment later. 'Oh!'
As the sunset shone over the sea the orangeish tinge sparkled all over the golden ripples on pale blue water.
The cool of the kulfi down my throat felt good, my lips tantalizingly numb.
'What are you thinking?'
......................................................................................................
P.S: Move that lazy thing. Comment! Just type & hit enter or touch, lol! ;) I love to hear from you.
SubscribeI'm a simple radio jockey. There will be no spam. Only content IF I'm free, that is. Click the button for new post updates.
I am trying feed burner alternatives. Get your own 👉follow.it
Comment!
Also ✅ post to facebook. Please donate to help support us creating more content. A subscription/ one-time payment will really help.
paypal.me/doveranalyst
or
paytm
Choose a recurring payment option from dropdown.