Please support on UPI
m.manaja@paytm
Shaadi K Side Effects
Official Trailer as found on Youtube. And, if you're on YouTube and haven't subscribed to me yet, it might be an amazing time to smash that
subscribe
button!
Real Movie Review from Real People
So, here goes review from real people.
It's a nice sweet movie and hilarious from unthinkable moments. Go see it, while it is still there!(I've still not seen Pyar K Side Effects,(the prequel to this movie). So, the names of the characters and their professions, is where the similarity ends!). But just as you know the state of any sequel made in world cinema today, there isn't really much left to guessing. And doesn't that make sense too? If sequels couldn't be independently sold, how would they do business?
What I loved in Shaadi K Side Effects
Loved Ram Kapoor's French, Spanish, Portuguese and what not! Ram and Gautami, the real life couple were so adorable together.
(Update from Sep 2016: Saw them in real life in Starbucks the other day. They are so cute together and so much in love!)
I went for it, pretty late — not a first day first show. I so wanted to see the movie for Farhan Akhtar after Bhaag Milkha Bhaag and Vidya Balan after Kahaani. Incredible performers as they're, they make us proud of Indian cinema today.
Update 10 Oct 2017:
I still think Shaadi K Side Effects was a good movie. Sometimes, you really need the movie to sink in before you give any review or your thoughts and analysis on it. And if I still have some positive vibes for Farhan Akhtar and my favourite Vidya Balan starrer Shaadi K Side Effects, I think it is at least a one time watch keeper, for sure!
doveranalyst's mini analysis
Undoubtedly,
Farhan Akhtar and Vidya Balan are two
of the most amazing actors we have. Amazing performance but given the capability of the two, maybe I had expected a little more. But, there was not much to do. The story was interesting, hilarious. As per the script, they did very well. Arrey the bai, (Oh, sorry, aunttyyy, Ila Arun was amazing!)
Shaadi K Side Effects Cast
But still worth it. Saw it in CR2 INOX. Those creeps would say seats are sold out and sell you expensive ones when you see seats vacant inside!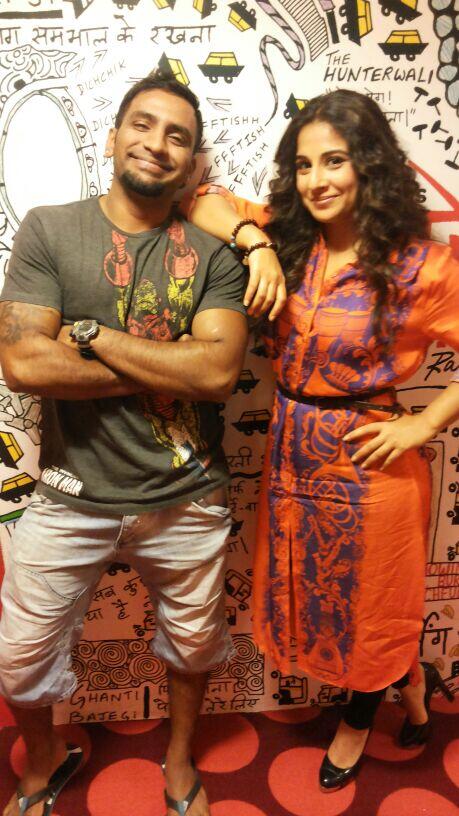 Totally breathtaking was the first Desi Romance disc song that opens the movie, Shaadi K Side Effects. Loved the 'Oh so cheap' plain lyrics with raunchy village flavour packaged with modern beats and made it so 'cool'.
Item number wala trend & sex scenes in Bollywood
The licking ears behind uncle and aunty in the elevator reminded me of Fifty Shades of Grey. :P
(No, there's not even a kiss! To those who want just that). Portrayal of sexuality in Indian Cinema has grown beyond mouth in mouth to classy implied little sensuality that is both bearable and often a relief. After Emraan Hashmi had stopped kissing on-screen, Vidya Balan and Emraan had an amazing little bed scene in Humari Adhuri Kahani, with nothing shown to the dissatisfaction of perverts, but certainly a tasteful take to me.
It's a clean, sweet rom-com.Yes, more comedy than romance and very realistic. There's more than a thing to learn on what not to do after getting married or save your life while you are still married.
Costume designing and all could have been much better. As my friends put it, the pre-kids Vidya should have looked much slimmer in western. And she does look stunning sometimes. See this picture.
Can someone please explain WHY SHE COULDN'T WEAR in the real movie stuff she wore in promotions?
So, what does doveranalyst think of Shaadi K Side Effects?
Well, nevertheless, I'd put it this way. It was beyond lovable to see a stunning Farhan Akhtar so much in love with Vidya all through the movie. Such committed love that he did not have one affair during the time where he was so frustrated!
Adultery in real life and the Utopian world of movies, just as Monroe used to say in the The Last Tycoon, It is the pictures.
Yes, this is not the typical — Get bored — have an affair adultery based movie at all!
For those who've already seen, I'm still wondering about the Shekhar thing. What do you think?
SubscribeI'm a simple radio jockey. There will be no spam. Only content IF I'm free, that is. Click the button for new post updates.
I am trying feed burner alternatives. Get your own 👉follow.it
Comment!
Also ✅ post to facebook. Please donate to help support us creating more content. A subscription/ one-time payment will really help.
paypal.me/doveranalyst
or
paytm
Choose a recurring payment option from dropdown.